Innovative Wellness Consultants is offering a groundbreaking opportunity for wellness center professionals to elevate their practices and redefine the standards of holistic well-being.
Are you ready to take your wellness center to new heights? Innovative Wellness Consultants is proud to present an unparalleled opportunity for wellness centers. Our mission is to empower you on a remarkable journey of growth and success.
We understand the significance of financial flexibility and control in achieving your goals. That's why we're offering different in-house financing for our cutting-edge clinic packages, enabling you to seize this remarkable funding opportunity and transform your center into a hub of innovation and well-being.
Table of Contents:
4 Clinic Packages
Innovative Wellness Consultants is thrilled to introduce three exceptional packages tailored to enhance your wellness center's offerings:
Brain and Body Reset
Are you ready to provide your clients with a transformative experience that rejuvenates both mind and body? The Brain and Body Reset Package is designed to deliver just that. With a comprehensive array of state-of-the-art products, this package promises to bring holistic wellness to a new level. It includes:
(1) Theta Chamber
(1) rTMS
(1) ReFIRE-03
(1) Hyper Cube Wellness Chamber
(1) RF-INNER Cleanse Basic Foot Detox
(1) INNER-Breath Hydrogen with Water System
For the incredible value of $230,500.00 (tax and shipping not included), you can access this comprehensive set of therapies that target both brain and body for holistic rejuvenation.
To secure your journey, a deposit of $52,552.50 is required. Simply pay half at the time of booking, and the remaining balance along with shipping charges are due one week before the shipping date. Additionally, we offer the convenience of a monthly payment option of $3244.31 (includes tax).
Quantum Extreme Detox
Elevate detoxification to a whole new level with the Quantum Extreme Detox Package – an exclusive collection of products designed to refresh the body, mind, and spirit. This all-encompassing package includes:
(1) ReFIRE-03
(1) Presso-Therapy
(1) ZPPIS – 8 ION Rain
(1) Hyper Cube Wellness Chamber
(1) RF-INNER Cleanse Basic Foot Detox
(1) INNER-Breath Hydrogen with Water System
For an exceptional value of $244,500 (tax and shipping not included), unlock the doors to rejuvenation and detoxification that transcend boundaries.
To embark on this transformative experience, a deposit of $55,770.00 secures your spot. Half of the deposit is payable at the time of booking, while the remaining half along with shipping charges are due one week before the shipping date. We also offer a monthly payment option of $3440.94.
Quantum Extreme Brain & Body
If you're aiming for the pinnacle of wellness offerings, the Quantum Extreme Brain & Body Package is your answer – an exclusive collection of products designed to harmonize both mind and body for holistic vitality. This comprehensive package includes:
(1) rTMS
(1) ReFIRE-03
(1) Presso-Therapy
(1) Theta Chamber
(1) ZPPIS – 8 ION Rain
(1) Hyper Cube Wellness Chamber
(4) RF-INNER Cleanse Basic Foot Detox
(4) INNER-Breath Hydrogen with Water System
Unlock this unparalleled journey of well-being for $362,000.00 (tax and shipping not included), and witness a transformation that encompasses the entire being.
To secure this experience, a deposit of $84,727.50 is required. Half of the deposit is payable at the time of booking, while the remaining half along with shipping charges are due one week before the shipping date. A monthly payment option of $5058.63 (includes tax) is also offered.
Quantum Extreme Brain and Body Plus
Step into the future of well-being with the Quantum Extreme Brain and Body Plus package – a comprehensive journey toward holistic transformation. This unparalleled package encompasses cutting-edge products redefining the boundaries of wellness. Included in this extraordinary ensemble are:
(1) Theta Chamber
(1) rTMS
(1) Presso-Therapy
(1) ZPPIS – 12 ION Rain
(2) InnerSlim
(2) ReFIRE-03
(4) INNER-Breath Hydrogen with Water System
(4) RF-INNER Cleanse Basic Foot Detox
Priced at $424,500.00 (tax and shipping not included), Quantum Extreme Brain and Body Plus demands a deposit of $91,162.50.
Secure your spot by paying half at the time of booking, and finalize your transformative journey by paying the remaining half along with shipping charges one week before the shipping date. We also offer a monthly payment option of $6068.56 (includes tax).
Elevate Your Wellness Center with State-of-the-Art Technologies
We are thrilled to introduce a range of state-of-the-art products designed to redefine the landscape of holistic well-being.
Theta Chamber: Unlocking the Brain's Potential
In the midst of today's global challenges, the surge in stress, anxiety, and depression has reached unprecedented levels. Meet the Theta Chamber – an advanced neurosensory simulator designed to reshape brain recovery and rewiring.
The Theta Chamber offers a rapid and comprehensive solution to these pressing issues by effectively restoring brain chemistry to balance through the process of entertainment. Unparalleled in its capabilities, no other existing modality can match its prowess or provide comparable results.
In just a 30-minute session, the Theta Chamber employs an array of non-invasive modalities including Vestibular Motion, Transcranial Audio Stimulation (TCAS), and L/R Hemispheric Synchronization using Light, alongside Traveling Pulsed Electrical Magnetic Frequencies and Inner Voice.
Complemented by 2000 body-specific frequencies tailored to each individual's unique needs, these modalities not only revive but also forge new neural pathways.
Renowned researcher Loran Swensen's insights bolster the foundation of this cutting-edge technology. The fusion of these techniques guarantees a revitalizing and personalized journey, catering to every client's distinctive requirements.
With its proven track record of extraordinary therapeutic outcomes, the Theta Chamber stands as an unparalleled resource for fostering positive change and overall wellbeing.
Hypercube Wellness Chamber: Elevating Wellness
Step into a realm of wellness innovation with the Hypercube Wellness Chamber – a haven designed to elevate your health journey through Mild Hyperbaric Oxygen Therapy (M-HBOT). Discover the transformative power of pressurized oxygen and its profound impact on your physiological, biochemical, and cellular well-being.
Through M-HBOT, oxygen is administered in a pressurized environment exceeding 1 atmosphere absolute (ATA), causing oxygen to dissolve and infuse blood plasma. This enhances oxygen levels in all organs, fostering a range of positive effects. Sessions, lasting 60-90 minutes, invite you to unwind while breathing normally.
Scientifically backed by extensive clinical studies, M-HBOT magnifies the body's innate healing and regenerative capacities. Whether battling chronic or acute conditions, this non-invasive therapy complements and accelerates your recovery process.
Safety and control are paramount within the Hyperbaric Chamber. Controlled both externally and internally, it ensures a sense of security. This state-of-the-art facility merges cutting-edge technology with comfort, featuring air conditioning and acoustic light wave tech.
Compact, with dimensions of 7x7x6, our design maximizes space efficiency, ensuring a seamless and enjoyable experience. It's crucial to note that while our mild Hyperbaric chamber fosters wellness, it is not a medical device and should not replace professional medical diagnosis or treatment.
r.T.M.S. (Repetative Transcranial Magnetic Stimulation)
In the pursuit of a brighter tomorrow, the fusion of innovation and science has given birth to a groundbreaking duo: rTMS and the Theta Chamber. Repetitive Transcranial Magnetic Stimulation (rTMS) stands as a beacon of hope, offering safe and painless brain stimulation that unlocks new possibilities.
This non-invasive therapy joins forces with the cutting-edge capabilities of the Theta Chamber to create a synergy that's transforming lives. Free from negative side effects, rTMS stimulates various brain regions, heralding a new era in neurological care.
From depression and anxiety to Parkinson's and sleep disturbances, rTMS acts as a bridge to relief, addressing a wide spectrum of neurological disorders.
A comprehensive repertoire of 26 preprogrammed applications ensures a precise fit for a person's unique needs, erasing uncertainty and paving the way for effective transformation.
Dive into the future of advanced brain stimulation with confidence and ease, as rTMS and the Theta Chamber collaborate to awaken the brain's latent potential. This journey is the key to embracing a life enriched with wellness and resilience.
Zero Point Plasma Innergy Suite: A New Era of Wellness Rooted in 90 Years of Proven Frequency Principles
Introducing the extraordinary Zero Point Plasma Innergy Suite (ZPPIS) – a fusion of science and tradition designed to revolutionize your wellness journey. Rooted in 90 years of proven frequency principles, this suite redefines holistic rejuvenation.
At the heart of ZPPIS lies a triad of synchronized Frequency systems:
Through a Large Plasma Tube, our dynamic Acoustic Light Wave generates frequencies up to 1,500,000 Hz, resonating harmoniously with your body's natural rhythms across 11 octaves.
Inspired by the legacy of Tesla and Einstein, Scalar Waves amplify Acoustic Light Wave transmissions boundlessly, giving rise to Zero Point energy and unlocking the potential of frequencies.
Envelop yourself in a soothing rain of Negative IONs. This high-intensity field relaxes your body, releasing excess Positive IONs.
Complementing Scalar-enhanced Acoustic Light Wave Frequencies, it fosters brain harmony and sensory receptor stimulation.
Anticipated benefits encompass increased ATP synthesis, pain relief, stress reduction, improved blood flow, and brain rejuvenation.
The ZPPIS includes the ALW Master Horizontal Plasma Station, four ALW Vertical Plasma Tube Towers, eight Innergy ION Rain Recliners, and four Normal Recliners, pre-programmed for automatic frequency protocols.
A 60-minute session, facilitated in a room up to 20' x 20', harmonizes cutting-edge technology with centuries-old principles. Embark on an unparalleled wellness odyssey with the Zero Point Plasma Innergy Suite – where innovation meets tradition.
RF Inner-Cleanse Basic: Unveiling Eastern Wisdom and Modern Science
Introducing RF Inner-Cleanse Basic treatments, a harmonious fusion of ancient Eastern Medicine wisdom and cutting-edge Radio Frequency technology. Delve into a transformative wellness journey that invigorates your body from within.
Designed to boost blood circulation deep within each organ, these treatments elevate internal temperatures, acting as a fortress against diseases while nurturing lymph health. Inspired by traditional Chinese medicine's Meridians, the therapeutic heat stimulates energy points, unlocking profound benefits.
Even a slight increase in internal temperature can supercharge immunity by 5-6 times. As blood circulation accelerates, toxins and waste are broken down and eliminated, rejuvenating your overall well-being.
Embrace our exclusive patented technology – the RF INNER Cleanse. This powerhouse rehabilitation instrument ignites your vitality, offering a rejuvenated sense of energy and harmony. Embark on a journey that harmonizes ancient wisdom with modern science, as you discover the path to renewed vitality and well-being.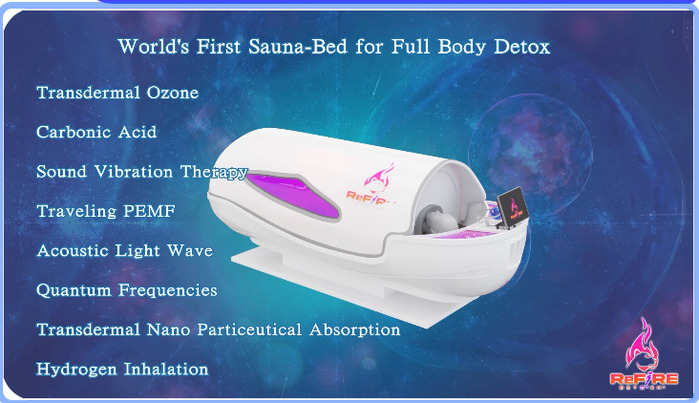 ReFIRE-O3: Pioneering a Paradigm Shift in Holistic Wellness
Prepare to embark on a wellness journey like no other with Refire-O3,, a revolutionary blend of modalities that redefine holistic well-being. This transformative experience empowers you with the freedom to tailor your journey, simultaneously or individually, catering to your unique needs.
From Trans-dermal Ozone and Carbonic Acid therapy to Hydrogen Inhalation therapy, Acoustic Light Wave, Sound Vibration therapy, and more, ReFIRE-O3 offers a holistic spectrum of possibilities. It combines Trans-dermal Nanoparticle Absorption, LED light therapy, and even a rejuvenating Steam Sauna for an unparalleled wellness encounter.
Embrace the comprehensive approach to well-being that ReFIRE-O3 unveils. ReFIRE-O3 is more than a concept. It's an opportunity to transform well-being and embrace the extraordinary.
Inner-Breath Hydrogen Therapy: The Path to Anti-Aging and Holistic Vitality
Discover the breakthrough potential of Inner Breath Hydrogen therapy – a holistic approach to well-being and anti-aging that promises a shield against oxidative stress and inflammation. This therapy extends protection to the heart, lungs, and gut health, and it doesn't stop there.
Hydrogen, with its unique capacity to permeate the blood-brain barrier and reach cell mitochondria, offers unparalleled benefits. Experience its marvels through water infusion or effortless inhalation via a nasal cannula at low concentrations.
Embrace relaxation as you tap into hydrogen's potential for neutralizing free radicals, slowing the aging process from within. Embark on a transformative journey toward enhanced well-being and youthful vitality.
Presso-Therapy Compression Suit: Embrace Natural Energy and Stress Relief
Indulge in the revitalizing essence of Presso-Therapy, the gateway to elevated energy levels and stress reduction through natural means. Paired with proper hydration, a balanced diet, and a healthy lifestyle, Presso-Therapy offers a holistic approach to well-being.
This transformative therapy improves circulation and elevates lymphatic drainage, effectively purging toxins and waste from the body tissues. The comforting touch of Presso-Therapy mimics a soothing massage, fostering enhanced energy, improved sleep, and a remarkable reduction in stress.
Unleash the rejuvenating potential of Presso-Therapy and elevate your wellness journey to unprecedented heights. Discover the power of natural revitalization and welcome transformative effects on both the body and mind.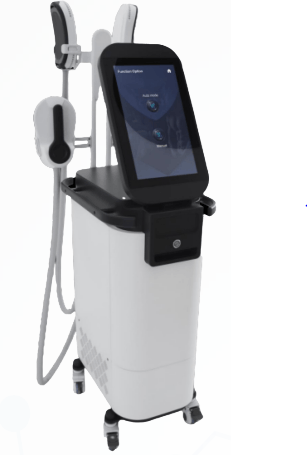 InnerSlim: Sculpt the Body with Advanced Electromagnetic Muscle Stimulation
Introducing InnerSlim – a cutting-edge solution revolutionizing body sculpting through high-pulse electromagnetic wave technology. This innovation triggers targeted muscles into robust contractions, inducing muscle enlargement (myofibrils growth) and fostering new collagen chains and muscle fibers (muscle hyperplasia).
These processes redefine muscle strength and aesthetic appeal. As muscles contract intensively, energy consumption is heightened, catalyzing rapid fat breakdown and blood circulation.
The amplified blood and lymph flow accelerate metabolism and facilitate the elimination of byproducts from fat decomposition, enhancing the body's immunity.
The InnerSlim regimen involves just two sessions per week, each lasting 30 minutes. Customized programs replicate the sensations and effects of actual exercise, encompassing stretches, warm-ups, distinct weight exercises, and cool-downs.
Effects vary depending on personal factors like goals, lifestyles, and body types. Embrace the transformative potential of InnerSlim and sculpt your body with the prowess of advanced electromagnetic muscle stimulation.
Empowering Financial Options
At Innovative Wellness Consultants, we understand the significance of flexible financial options. That's why we're offering an exclusive financing opportunity that empowers you to embrace these revolutionary packages.
With a deposit requirement and a monthly payment plan, you can secure the latest technologies for your center without straining your finances.
A deposit ranging from $52,555 to $63,278 is required, depending on the package of your choice.
Half of the deposit is due at the time of booking, while the remaining half, along with shipping charges, is to be paid one week before the shipping date.
The convenient monthly payment plans start at $3545 and go up to $5100, making it easy to manage your expenses.
Bonus Benefits
As an exclusive offer for those who embrace our clinic packages, we're including a generous extended warranty. All packages come with a 3-year extended warranty valued at $21,500.
If you manage to pay off the package before the end of the 3-year period, you'll receive an additional 2 years of extended warranty as a bonus, valued at $15,500. This demonstrates our commitment to providing exceptional technologies and peace of mind.
Seize the Opportunity
You've been chosen for this exclusive limited offer! Don't miss out on this chance to transform your wellness center and embark on a journey of growth and success. Contact us today to discuss our Clinical Packages and state-of-the-art products.
Innovative Wellness Consultants is dedicated to supporting your aspirations and helping you create a center that stands out in the wellness industry.
With our cutting-edge technologies, flexible financing options, and generous bonuses, you have everything you need to revolutionize your wellness center and provide your clients with an extraordinary wellness experience.
This comprehensive approach reflects our commitment to the success and prosperity of wellness consultants in the ever-evolving wellness industry.
If you're ready to seize this exceptional opportunity and transform your wellness center into a beacon of innovation, reach out to Innovative Wellness Consultants today and take the first step towards an exciting and prosperous future in the wellness industry. Secure your place in the future of wellness innovation!